Lucid Air Electric Vehicle: For Sale, Specs, Interior


Buy Lucid Air Now
The Lucid Air for sale at our dealership in Lexington, KY, is a dynamic new electric vehicle helping Lucid Motors become one of the premium electric-vehicle-focused automotive manufacturers. The 2022 model is the first vehicle ever to be produced by Lucid Motors, but it is a promising first salvo in the brewing competition over the electric vehicle market. It has a previously unheard-of range of over 500 miles1 and boasts incredible performance specs.
Lucid Air Specs
The Lucid Air for sale is available in various trims that all offer different performance specs and all-electric powertrains. The base model, the Lucid Air Pure, uses a single electric motor with rear-wheel drive. The other models have two electric motors, one in the front and the rear, and all-wheel drive. The trims of the Lucid Air for sale are:
Lucid Air Pure
Lucid Air Touring
Lucid Air Grand Touring
Lucid Air Grand Touring Performance
Lucid Air Dream Edition
Lucid Air Dream Edition Performance
The latter pair, the Lucid Air Dream Edition and the Dream Edition Performance model, are sold out for the 2022 model year. This speaks to the impressive popularity of this debut electric vehicle from Lucid Motors. Read on to learn more about the performance specs of our sleek Lucid Air for sale.
Lucid Air Range
The Lucid Air electric vehicles have different ranges based on their respective powertrain configurations and even the size of their wheels. We'll list some of the possibilities here to help you figure out which model and configuration you're most interested in.
The Lucid Air Pure and Touring models both have maximum ranges of 406 miles.1 This is incredible for a commercially available electric vehicle, but it only gets better from here. The Grand Touring model gets up to 516 miles of range.1 The Lucid Air Dream Edition gets up to 520 miles,1 and the Dream Edition Performance version gets about 471 miles.1
While the different trims get different ranges, the Lucid Air range is powered by the same underlying technology. Most versions of the vehicle have a 112-kWh battery pack, and all of them can use DC fast chargers, which allow you to refill the battery at fantastic speeds. Lucid Motors says that 20 minutes of DC fast charging nets you 300 miles of driving range.1
Our Lucid Air for sale is just one vehicle in our incredible inventory of used EV cars for sale. Visit our dealership in Lexington, KY, today to check out this revolutionary vehicle for yourself.
Lucid Air 0-60
Electric vehicles like our Lucid Air for sale have absurd performance potential. This is because their all-electric powertrain can engage instantly at full power instead of ratcheting up through different gears like a traditional vehicle. The Lucid Air Dream Edition Performance model shoots from 0 to 60 in less than 3 seconds. When you lay on the pedal, you'll leave your stomach behind in one of these sweet cars.
The incredible Lucid Air 0-60 launch time is made possible by its incredible horsepower ratings. These differ from model to model, just like the driving range; we'll detail the different horsepower ratings next.
Lucid Air Horsepower
The base model of our Lucid Air for sale, the Pure version, gets 480 horsepower from its single motor. That's more than most conventional vehicles, but it's by far the lowest rating of the Lucid Air lineup. The Touring gets 620 ponies from its twin motors, and the Grand Touring uses two motors to generate 1,050 horsepower. That's right: it breaks four figures.
The Dream Edition gets 933 horsepower, and its big brother, the Dream Edition Performance, has a very impressive 1,111 horsepower rating. These wild Lucid Air horsepower ratings will see the vehicle blast past anything else on the highway.
Lucid Air Interior
Lucid Motors designed the Lucid Air as a luxury vehicle; this is evident in the car's interior. The cabin is spacious, to say the least, as are the front and rear trunks. The lower-level trims have synthetic leather upholstery, while the upper-tier options have the genuine article. A retractable lower touch screen — there are two in the front — hides a storage space, maximizing the vehicle's utility.
The Lucid Air interior is illuminated by the glass canopy that tops the vehicle. We're fans of natural light and great visibility, to understate things. The vehicle comes with DreamDrive; the Lucid Motors team is constantly working to improve their software and plans to offer Level 3 self-driving abilities in the near future, which will be delivered to drivers via over-the-air software updates. If all of this hasn't convinced you to buy your Lucid Air today, then we can't imagine what will.
Used Lucid Air for Sale at Quantrell Auto Group
Our Lucid Air for sale is a dynamic new electric vehicle from an automaker that looks primed to give other top electric vehicle manufacturers a run for their money. The superb driving ranges offered by the luxury sedan will allow you to drive across entire states without stopping for more juice. The luxurious interior will keep you and your loved ones comfortable running errands around town or going on cross-country odysseys.
The used Lucid Air for sale at Quantrell Auto Group is a rare opportunity for drivers. As the premier electric vehicle dealer in Lexington, KY, we can tell you anything else you want to know about this amazing vehicle. Visit us today to experience it for yourself.
Frequently Asked Questions
Does Lucid Air have autopilot?
The Lucid Air all-electric luxury sedan is equipped with DreamDrive, a self-driving software. This driver-assist system will revolutionize the way you drive, allowing you to enjoy trips around town and across this great country more fully.
What is the Lucid Air made of?
The Lucid Air all-electric luxury sedan is powered by lithium-ion battery cells that LG Chem supplies. These batteries work with the 88-kWh or 112-kWh electrical systems (the specific specs vary by trim) to produce the incredible horsepower ratings and driving ranges described above.
How many Lucid Air Dream Edition vehicles are there?
When the Lucid Air Dream Edition went on sale on October 30, 2021, all 520 were already pre-ordered well ahead of the release date. Our dealership currently has 1 of them available for sale.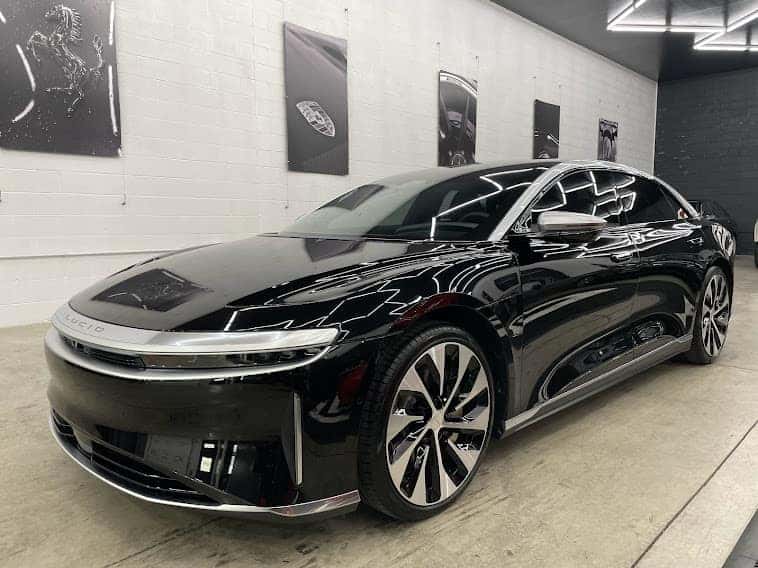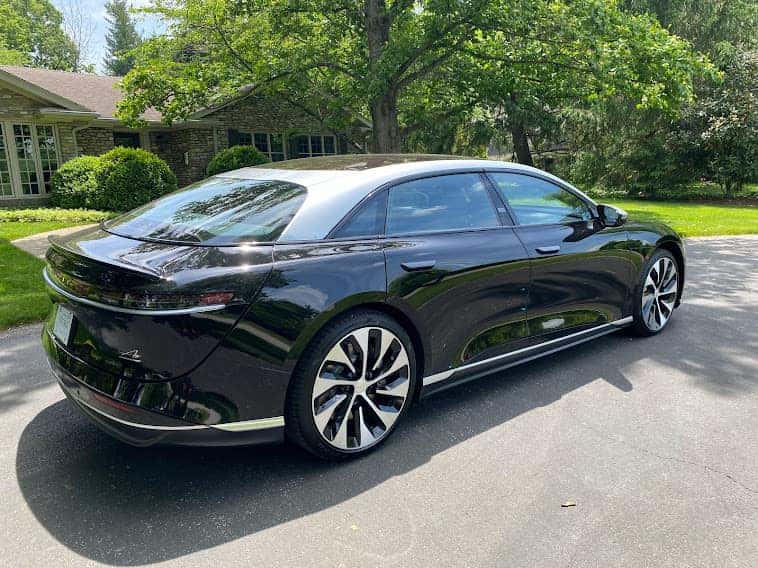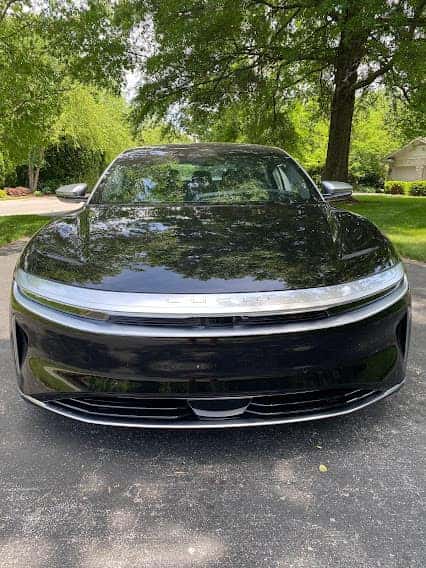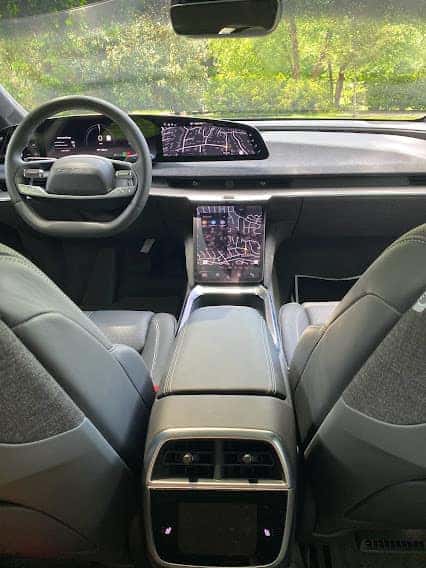 ---
1Based on EPA estimates on a full battery charge. Actual range will vary with options, driving conditions, driving habits, vehicle maintenance, charging practice, battery age, weather, temperature, and your vehicle's condition. Battery capacity will decrease with time and use. For more information on range, please see www.fueleconomy.gov.